For millennia we have been told to seek advice, guidance, and wisdom from external sources, particularly when it comes to questions of our soul, of our human evolution, of our purpose on the planet. These sources, especially in the last 2000 years or so, have largely been based on paternalistic ideals, i.e. patriarchal, with disempowering motives. For example, the global influence of the Church, where you must have access to God by way of the priest or "Father."
Nothing could be further from the Truth. The Truth is that you have everything within you to decipher your own way in this world, to be guided and led entirely based on the truth of what lies in your heart. 
The Truth is we have the innate capacity to seek the answers for all of our biggest questions… we simply need to know how to listen. 
Authentic listening first takes deconditioning and healing from the layers upon layers of "voices" that we carry that are not our own. These voices, as they arise from the conditioned aspects of our ego, of our mind, can be quite dominant and overpower the Voice that is truly ours, the Voice of the heart, the gateway to our Soul. 
You are the Oracle.
In ancient Greece, Delphi, the omphalos (in Greek "navel") of the earth, was considered to be the center of the world.
Zeus sent out two eagles in opposite directions and they met right above Delphi. It is said that originally this was a high center of worship of Gaia. Later on, when the 12 Gods' religion was introduced in the area, Apollo, The God of Light, killed the snake Python (which represents the wisdom of the old times) and made Delphi his place of worship.   
The new world is awakening by integrating the old world. Ancient Greece is part of the puzzle of who we were, and who we are becoming. During this 6-day gathering, we are visiting the powerful site of Delphi in order to awaken the Oracle that we already are into a deeper and higher layer within us.
The Oracle is our most intimate nature, our initiatory connection to the divine, hidden within our innermost blueprint, which is waiting for us to reclaim yet again, consciously and full-heartedly. It is holding the truth for you and for everyone around you, cosmic and human alike.
We will work in accordance to the energies and frequencies of the sacred place as well as with our own individual, group and collective/ancestral fields.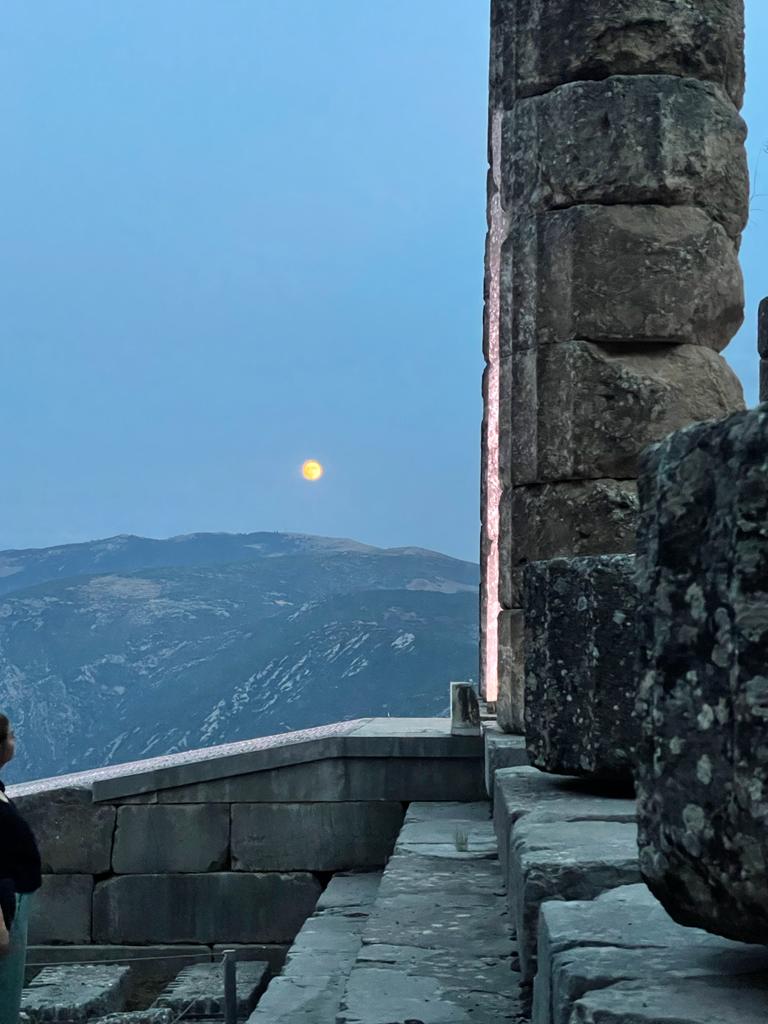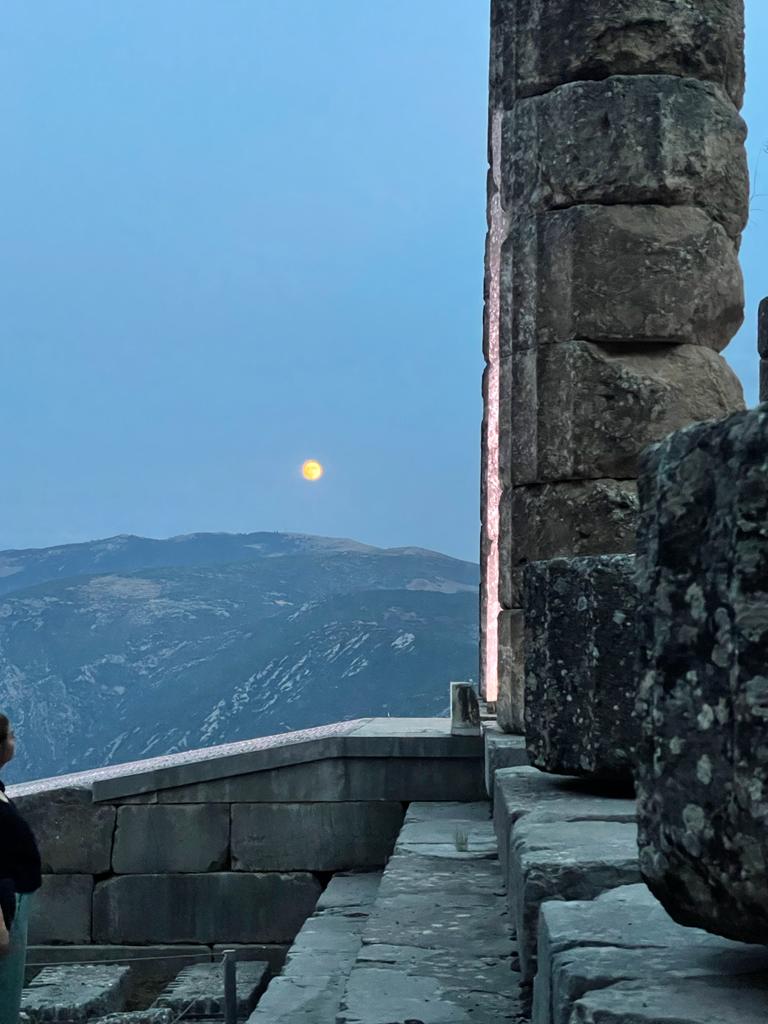 Each day we will work with a different temple energy, God/Goddess archetype and a part of our inner psyche that resonates with those. Our focus will be to awaken our potential, activating every part of our being, calling in lost soul fragments, and remembering who we truly are.
Delphi is an empowerment center and the Oracle is a fully empowered human being.
We will also focus on receiving guidance for our path and on accepting the gifts of the accumulated source energy in the field in and around Delphi.
Ancient Greece was a portal of light. Ellada (in the Greek language) comes from the word "el" which means light and "da" which means land/earth, the land of light, in ancient greek.
For those of you who sign up for this retreat we will have the option to meet once a month online for one hour, to connect and prepare in mind and spirit for our gathering. 
Recommendations for Hotels and food (vegeterian / vegan) in Athens and guidance for transportation to and from the airport.
Therefore, brother or sister, if:
You feel a connection to Greece and its ancient sites

You wish to go deeper into your own potential as the Oracle of your own life

You wish to deepen your intuition, connection to Source, and divine guidance

You wish to connect with like-minded people
…then this Retreat is for you!
In the price is included:
Hotel in the town of Delphi for 5 nights

Breakfast each day

Dinner each day

All the workshops

Tickets for the archeological sites

Return transfer to Athens

Light snacks and herbal teas
Flight tickets

Transportation to Delphi

Lunch/mid-day meal

Extra or free time activities

Souvenirs, gift purchases

Travel insurance (required)

Final night stay in Athens (is recommended to have the full experience)

Transportation and food within Athens after return arrival
Some of the tools we will use:
Conscious movement and sound
We are so grateful and looking forward to what is to come from this retreat and to cocreate with other beautiful souls the inner workings of a newly emerging paradigm!
With much love ❤️ and joy,
Anna and Marianna
Tuesday 23rd April 2024
Arrival
Evening opening ceremony
Wednesday 24th April 2024
Morning embodiment practice
Kastalia Pigi (Kastalia Water Spring)
Tholos (Divine Mother circular temple)
Athena Pronaia Temple
Meditation and energy work
Thursday 25th April 2024
Morning embodiment practice
Apollo temple
Ancient Theater
Archeological site
Meditation and energy work
Friday 26th April 2024
Morning embodiment practice
Hiking day to the cave
Meditation and energy work
Saturday 27th April 2024
Morning embodiment practice
Galaxidi visit to the sea
Ancestral ceremony
Sunday 28th April 2024
Sunrise at the temple
Oracle integration
Aphrodite (Venus) Temple in Acrocorinth, culminating in the surge of Divine Feminine
Closing ceremony
Return to Athens approximately at 17:00 pm (the airport from Athens is 1 hr, but give 2 hrs for the traffic,etc.)
Monday 29th April 2024
Optional informal guiding in ancient sites in the Acropolis area.
This is not part of the retreat but is available for those who desire to stay longer.
Extra information of what is required: 
Travel insurance is required

Water bottle

Hiking shoes

Bathing costume/Swimsuit

Retreat is not overly physical, but does require walking and hiking, sometimes uphill. Plan accordingly and be prepared for this.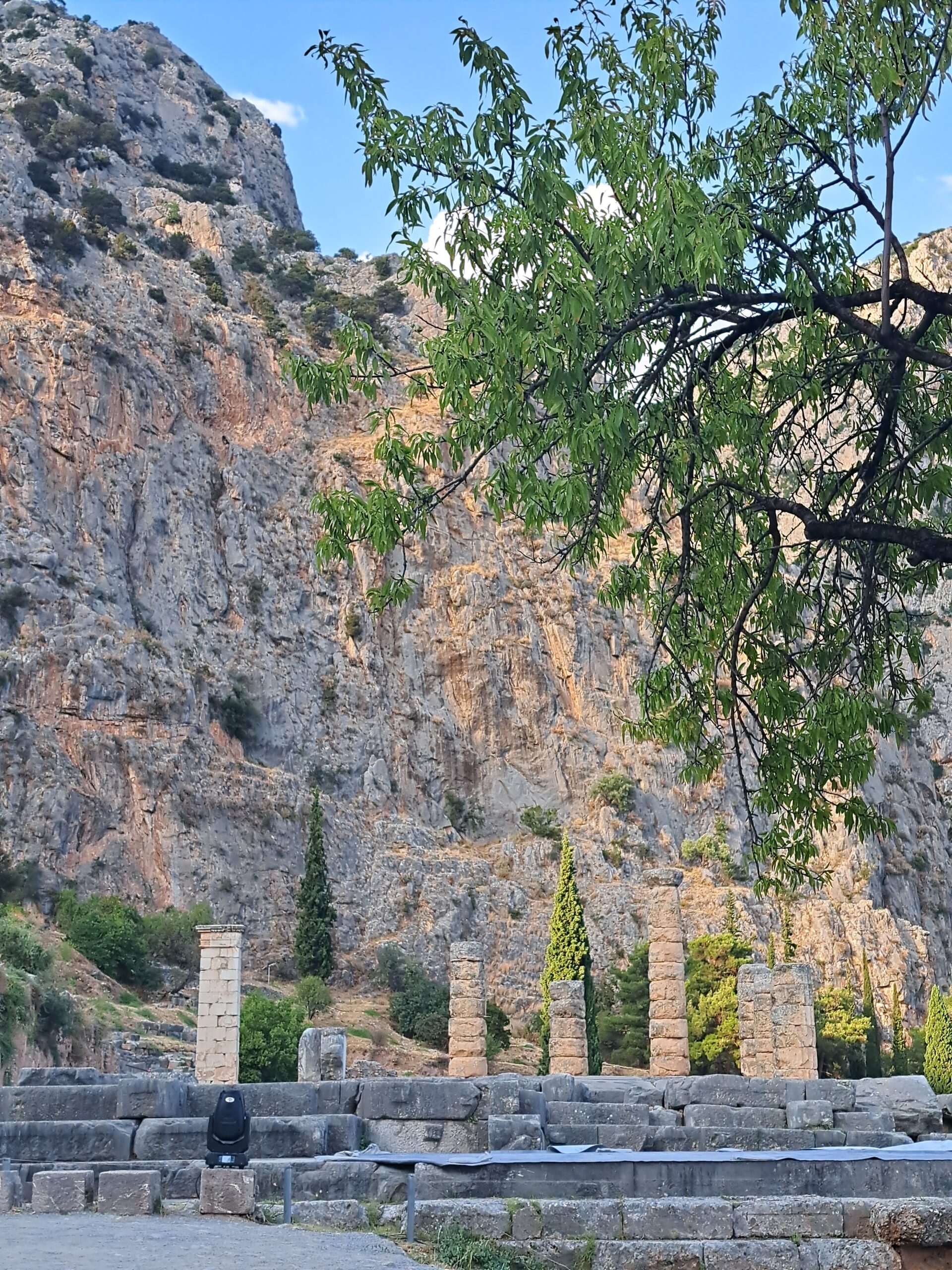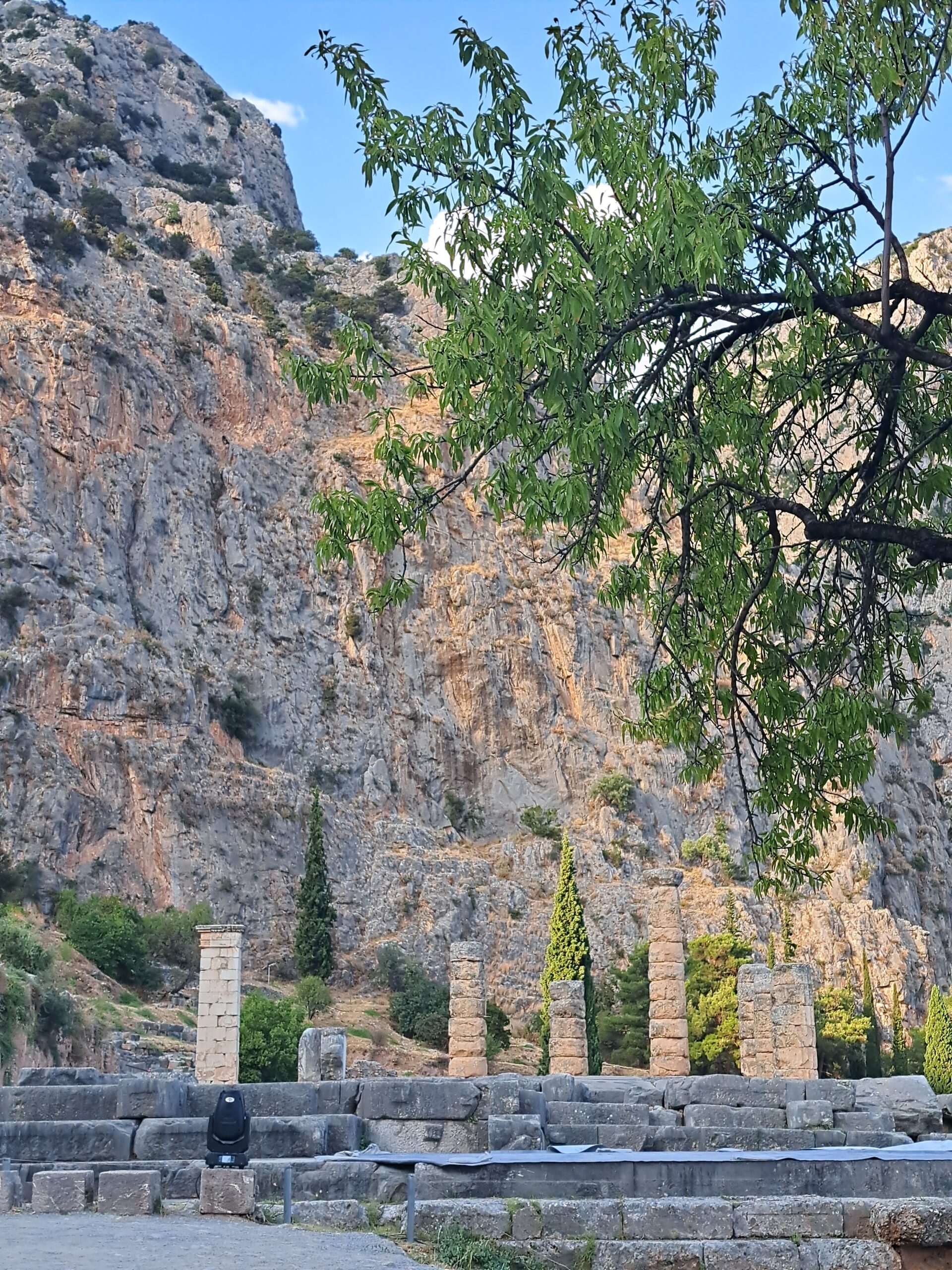 Payment
1.444 € (24% VAT incl.) Shared Double Room
Plus 500€ for Single Occupancy (upon request)
Get a free of charge private session.
For subscriptions before the 31st of December 2023.
Reviews
Elzette Le Roux
2023-06-07
Marianna's compassion and grace holds beautiful space for me to see and re-member the unseen and forgotten parts of me. With her empathy superpower she helps me with words (and images) for what I feel and/or my body stored and helps me to bring shadow parts into the light. Thank you sister for sharing your gifts with me and journeying with me in healing, recognizing my wholeness to thrive in my genius!
Βρήκα τη Μαριάννα τυχαία στο instagram! Διαισθητικά την εμπιστεύτηκα και μπήκα σε έναν κύκλο γυναικών. Παρ' όλο που γίνεται διαδικτυακά η ενέργεια είναι τόσο δυνατή που δεν μπορεί παρά να σε κατακλείσει. Με βοηθάει στο ταξίδι θεραπείες που έχω ξεκινήσει εδώ και μήνες. Ήμουν έτοιμη να το ζήσω όλο αυτό και το απολαμβάνω. Ηρεμία, απελευθέρωση, δύναμη είναι μόνο λίγα από αυτά που βίωσα! Να είσαι καλά Μαριάννα! Ανυπομονώ και για τη συνέχεια!
georgia georgia
2023-02-13
Την Μαριάννα την ξεχώρισα γιατί είναι απλή φιλική αληθινή! Ότι σεμινάριο έχω κάνει μαζί της είναι απολαυστικό λυτρωτικό και θεραπευτικό!!
Konstantina Anagnostopoulou
2023-02-13
Μία υπέροχη κοινότητα αγάπης, αποδοχής και ενδυνάμωσης η Inspirited! Κάθε φορά που συμμετέχω στις δράσεις της κοινότητας βιώνω γαλήνη, και ξυπνάει μέσα μου η θηλυκή αρχή που είναι σαν ένα πέπλο μητρικό για μένα. Ένα πέπλο αγάπης κι ευγνωμοσύνης. Σας προτείνω ανεπιφύλακτα να το δοκιμάσετε! :)
Demetra Yerolemou
2023-02-13
Έχω παρακολουθήσει διάφορα μαθήματα με την Μαριάννα. Έχω μείνει ενθουσιασμένη με κάθε ένα από αυτά, αλλά, κυρίως, με την ίδια που είναι πραγματικά χαρισματική. Έλαβα γνώση, εργαλεία και πρακτικές στις οποίες συχνά επιστρέφω. Θεωρώ πως δεν ήρθε τυχαία στον δρόμο μου και νιώθω ευγνώμων γι' αυτό! 🙏🙂
Subscribe
With your subscription to the Newletter you will receive Opening to femininity introductory workshop free of charge in your email